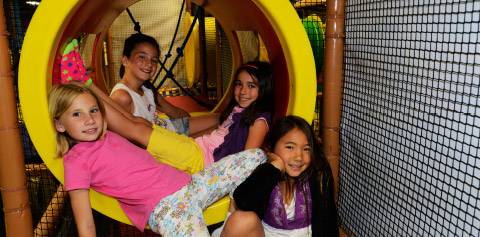 Our Mission
Billy Beez began as alternative entertainment for children in a shopping mall setting; one where they can be active and engaged. Today, Billy Beez is an environment where adults and children alike can experience fun, family fitness while creating lasting memories. Billy Beez encourages social, mental and physical development through play, as kids learn to navigate a new environment and form relationships with their peers. We proudly support the balanced lifestyle movement, offering a healthy source of fun to our communities. Come run, jump, bounce, slide and climb your way to an active lifestyle!
A slide for every kid
Slide your way through our world! Race your friends down the Super Speed Slide, pick your favorite color to ride the Rainbow Wave or have an adventure through the Tunnel Slides.
Race down the Rainbow Wave slide to see which color is the fastest!
Ballistics Arena
Our take on the ball pit is anything but average! Featuring a geyser of soft foam balls surrounded by an upper level of cannons, this area is perfect for friendly ball battles. Your little one will be mesmerized by the flying colors whirling around them.
You've never seen anything like this before!
Sports Courts
Practice your slam dunk or score a goal in our enclosed field. The child-sized space is ideal for pick-up games and team building activities.
Look out for soccer classes and other fun games, coming soon!
Mini Beez
Explore the specially designed, smaller scale section for the littlest of little ones. With miniature slides, soft play toys and padded flooring, your toddler will be able to safely go on any adventure!
Infants are welcome! Join us weekday mornings for a calmer, more baby-friendly experience.
Must be under 42″ and supervised by an adult to play in Mini Beez section.
Party Rooms
Give your child their best birthday yet! Party packages include a private party room to celebrate the special day with their guests. Choose from our selection of fun themes and decorations to personalize your party experience.*
Need more time to open presents or do an arts and crafts project? Check out our customizable party packages to extend your time!
*Available in select parks.
Honey Cafe
Take a break from playtime to recharge your energy! Choose from any of our fresh and tasty options to enjoy with your friends and family. Our house-made dishes and grab-and-go snacks are ideal for a balanced lifestyle.
Fan favorite: Our guests love our pizza!
Honeycomb Village
Imaginations run wild in our interactive, tot-sized town. Your little one can be a doctor, pizza chef, school teacher and more as they create their own adventure. Billy Beez encourages all of our guests to bee whatever they want to bee!*
The realistic props and design of our mini town provides an entertaining AND educational experience.
*Available in select parks.
Trampolines
Bounce high above the treetops in our trampoline park! Guests take turns to discover who can soar the highest or do the best trick. Adults will have just as much fun as the kids!*
Our adults say it's the most fun workout ever!
*Available in select parks.
BB Games
Take a break from sliding and climbing to rack up some tickets in our newest attraction, BB Games! Play a wide selection of classic carnival style games like Basketball Hoop Shoot, Skeeball and Grab-n-Win.*
Redeem your winnings for kid-friendly prizes.
*Available in select parks.
Health & Safety
Self Supervision:
Considering the inherent risk involved in the participation and use of Billy Beez activities and equipment, it is and will remain the responsibility of the accompanying adult, parent and/or guardian to not only supervise the children, but to have the knowledge of the activities that the child participates in and that these activities are within the child's ability to execute safely. As Billy Beez, we do not and are unable to make a judgement on the physical and/or mental abilities of any of our guests. Accordingly Billy Beez is a self supervised environment which requires the adult guardian to remain within a distance of the children where it will allow them to ensure that they play safely and to avoid potential injury.
Safety:
Be Safe, little Bee!
At Billy Beez our guests experience safe, clean family fun. Our parks have a commitment to the comfort of all our guests that enter our facility and making sure the time they spend is truly 'buzz' worthy. We pride ourselves in keeping our facilities clean and well maintained which also promotes a fun and safe environment and helps everyone enjoy their visits to our attractions. While we do our part every day to make sure our playground meets the highest industry safety standards, it is vital that parents and guardians do their part. To make your visit safe and enjoyable, upon arrival and throughout your adventure at Billy Beez please ensure to read our Safety Rules and Policies for parents, guardians and kids. By working together we can ensure that Billy Beez remains a safe and happy place.
Security:
Billy Beez operates on a monitored check-in/check-out process at our gates. This is a customer service and safety feature to help ensure families are matched to their designated wristbands. Our policy is that each child is accompanied by a designated adult, both are given unique wristbands, and these are, where possible matched, during the admission and exit process to and from the play park. Billy Beez offers this feature as an added service in our facilities. It is to be noted that Billy Beez by offering the feature does not assume either the liability or responsibility of child supervision. Billy Beez remains a self-supervision environment, and we advise our adult guests that they are and remain the guardian of the child/ children they accompany into a Billy Beez facility, and remain ultimately responsible for the safety and whereabouts of the child/children.
Cleanliness:
Busy Bees are Happy Bees!
At Billy Beez we take our responsibility in cleanliness and disease prevention very seriously, and make every effort to ensure standard precautions and cleanliness are part of our daily and ongoing routines. There is a team of staff in charge of cleaning and maintenance in our facilities who are trained to execute our cleaning program and are held accountable to our standards.
Don't take our word for it.
Check out what our fans are saying about us...
I took my 3 year old today and she absolutely loved it! The whole family really enjoyed the ball room. The attendant for the toddler area was really nice and kept out all the big kids so the wee ones could play. We have booked a birthday party for her later this month and Emily has been great with answering all of my questions regarding the setup of the party. I can't wait to come back for the party!

We just took our 3 children, 5 1/2, 4 and 17 months. All 5 of us had one of the best days ever! The adults can actually do everything with the kids and go down all of the crazy slides. The area for the littlest guests is so much fun the older ones played with him there as well and it was a large area with a little of everything the bigger kids could do. We cannot wait to go back. Need one closer to our home!

I've brought my daughter twice already, and I'm surely going to be doing so weekly. The staff are fantastic, friendly, and helpful. The place is immaculately clean, especially for its size. Everything exudes fun and safety for my daughter and other children. I'm ecstatic we have something like this locally. Thank you for being here!

There was something for children of all ages… The check in and out system made me feel very relax that my child was contained and safe.

The kids luv this place. First time here with the kids and they don't want to leave. Staff is super friendly.

Great for young children with lots of energy. Very safe place and lots of fun even for the parents!
Meet the Beez
Billy

The leader of the pack, always making sure everyone is having a blast. Billy was the first to stand up and say, "Let's have some fun!" His favorite thing to do is start a ball battle with his friends in the Ballistics arena.

Uncle Bumble

Where there's mischief, you'll find Uncle Bumble. He is always concocting a plan to make playing even more magical. He's been seen buzzing through the treetops, leaving a trail of sparks everywhere he goes.

Buzzy

Buzzy is a fun-loving bee, always up for a slide race. He can be found zooming down the Super Speed slide or leading the way down the Rainbow Wave slide. His secret to winning… Blue is the fastest color!

Polly

This petite little lady bee is wide-eyed and curious. She loves to play alongside the big bees and go everywhere they go. Polly may be small, but she is a huge ball of fun!

Honey

Never was there ever a bee that loved parties so much! Honey is always at the center of the event and enjoys surrounding herself with happy guests. She makes every day feel like a celebration!

Buddy

Buddy is the little brother that can't wait until he's a big bee. He can always be found a few steps behind big brother, Buzzy, following him down the slides.

Queenie

Queenie is not one to sit and watch, this lovely lady can be found playing alongside the littles ones. This momma bee can always be counted on to join in on the fun!

Baby

The youngest of the Beez is Baby, a high-spirited and very inquisitive little one. He can be found buzzing around Mini Beez all day, staying close to Queenie's side, of course!

Papa

Papa is a proud parent who teaches the little ones about friendship, sportsmanship, the importance of fitness, and of course, a healthy dose of fun! His pup-bee, Stripe, can usually be found buzzing along after him.